Login to Cinema8 Creative Studio
Before you start to create interactive videos in Cinema8 Creative Studio, you need to login to the system. You don't need any extra software to install. Basically, you can use your browser to login. Now let's see how to.

1. Write www.cinema8.com to the address bar of your browser.



2. To log in, click on the Log-in button on the top right of the homepage.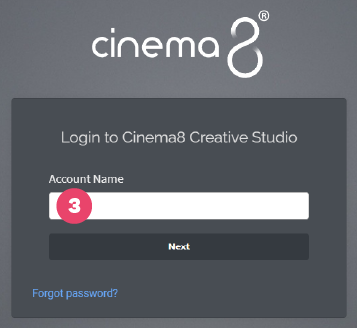 3. Write your username in this field.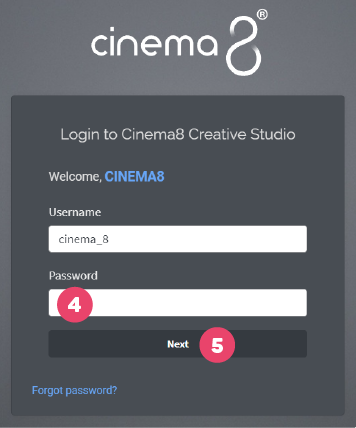 4. Write your password in this field.

5. Click to next to the Cinema8 Creative Studio after writing your username and password.


Related Articles

Creative Studio

Cinema8 Creative Studio is an online video editor that allows you to make editings and add interactions on your videos. With magical touches in its world, you can turn each of your videos into interactive experiences. Video Content Editing Even for ...

Introduction to the Video Editor - The Creative Studio

Cinema8 Video Editor provides users with the possibility of creating interactive video in a very simple way with its drag and drop methods and easy-to-use layer structure. Let's take a look at the general structure and design of Cinema8 Video Editor ...

Image Element in Cinema8 Creative Studio

The Image element allows you to add images to your video. When you give click actions to the images you add, the images will turn into buttons. Now let's see how we can add the Image Element. First of all, we drag and drop our vehicle from the ...

Configuring Your Profile

First, log in to Cinema8, go to Creative Studio, and configure your profile & account. (How can I log in?) Creative Studio Click on your account name in the upper right corner. ​ Click Creative Studio from the opened options. Creative Studio will ...

Creating an Interactive 360° Project in Cinema8

Login to Cinema8 Creative Studio before creating an 360° interactive video. After login, you can start working by selecting the video you will add interaction to. Let's look at how we can create an interactive video project. 360° Video Upload First ...