With Cinema8 Analytics, you can get project-based reporting and keep detailed analytics for each of your projects. You can also view the person-based reports of the projects.
You can access and download information such as which interaction point viewers clicked, clicked, what answers the questions are, and with which Cinema8 element interactions are made.

There are 2 ways to look at the analytics of projects.

1. With the Action button on the Projects tab


On the Projects tab, find the project whose analytics you want to look at and click the Action button on the right side. Click Analytics from the Action buttons. You will be directed to the analytics page of the direct project.
2. With the More Analytics button on the Analytics tab

Click the Analytics tab in Creative Studio and go to the Time-Based View List section. In the Search field just above the project list, type your project name and find it. Click on the icon in the More Analytics section on the right side of your project. You will be directed to the analytics page of the direct project.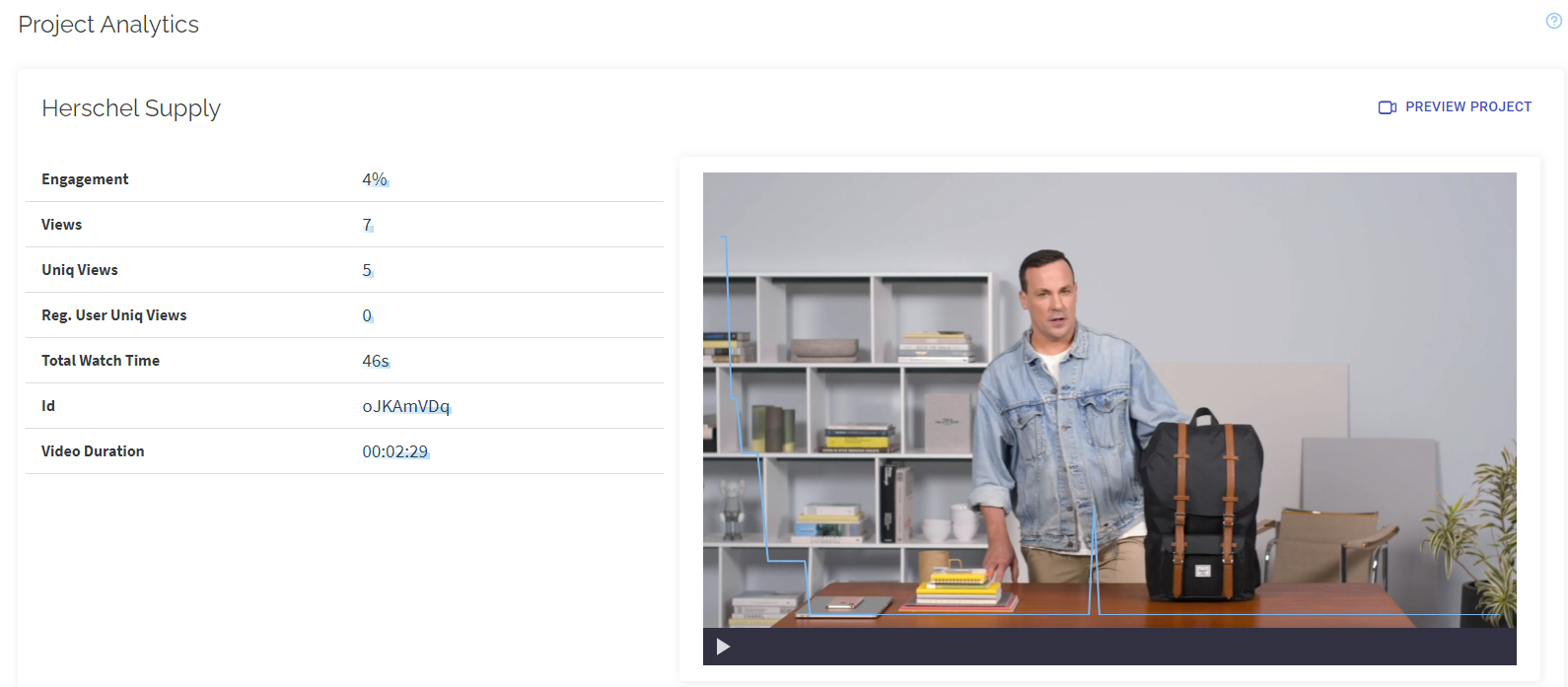 The first thing you will see on the project's Analytics screen is the overall analysis of the project. You can see Engagement, view, unique view, total watch time, ID, video duration information. Next to this information, you can see how many seconds the project was watched, and you can play the project.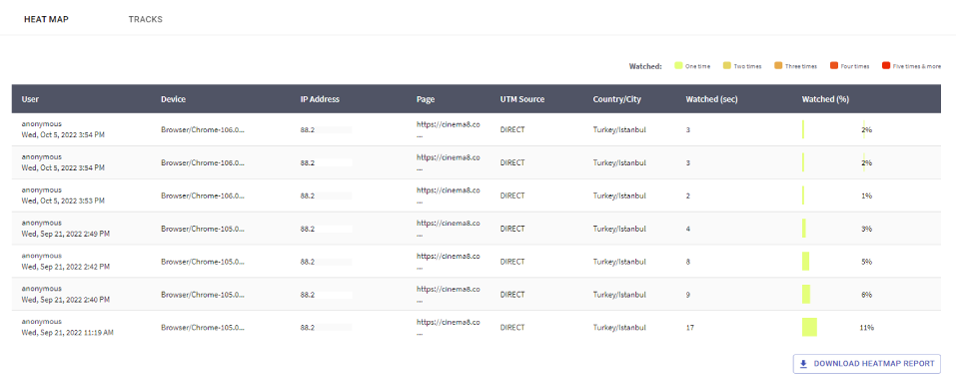 In this section, you can see more detailed analytics of the project. You can even download these reports from the bottom right of the page and you can access information such as who gave what question and what answer by doing person-based filtering in the excel file you downloaded.
Heatmap



Heatmap table gives to you information from the viewer; it provides user information, device, IP address, page, UTM source, country/city, watched (sec) and watched (%). You can download the Heatmap table by clicking the Download Heatmap Report button at the bottom right of the table.
Tracks

Click on the Tracks tab to follow the interactive widgets on your project's timeline and see the interaction they receive.
The Tracks tab contains ID, name, type, exposures, interaction type information. Clicking on the arrow on the far right of this list opens a new report list. In this list, you can see what the user is doing at the point of interaction here. You can download this report by clicking the Download Report button in the upper right corner of this list.

Click here to see General Reporting.

Click here to see Reporting with API.